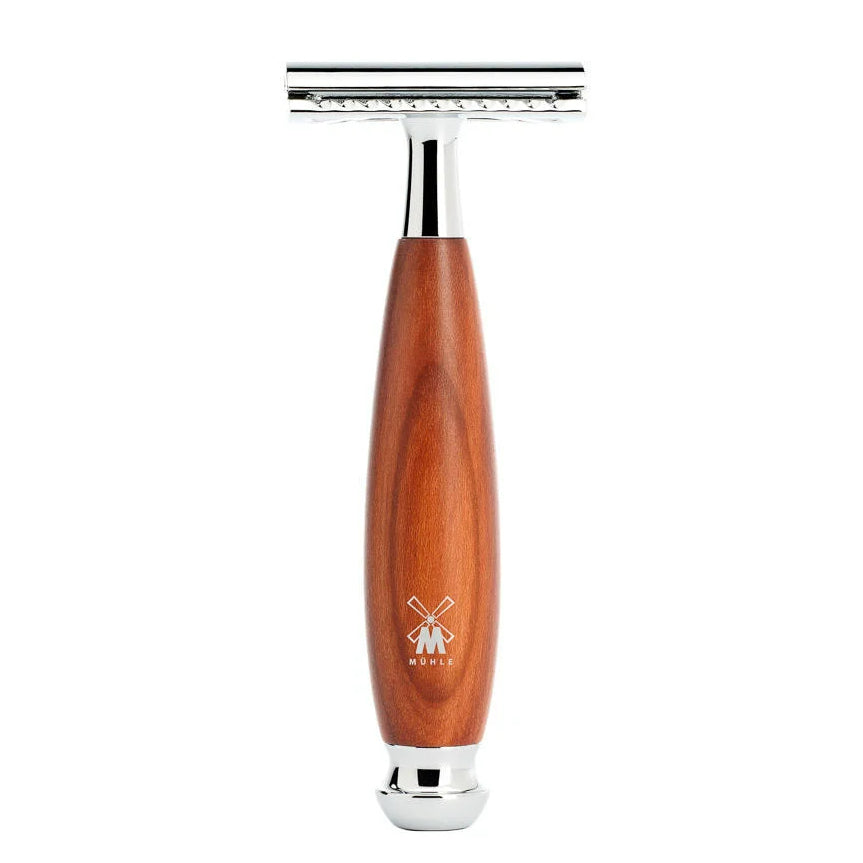 Muhle Vivo Plumwood Closed Comb Safety Razor
Description
This beautifully presented safety razor from Muhle has a wooden handle carved from the plum tree, sealed with oil to make it waterproof as well as show off the vivid natural colours of the grain.
It feels comfortable in the hand and is perfectly weighted. Chrome plating on the base gives it that high quality finish.
The closed comb head is better suited for frequent users that will be shaving short stubble rather than long hairs. However, it will give a satisfying close shave no matter what.
Blades are easily replaced by unscrewing the head of the Safety Razor.
To purchase this product you need to be over 18.
Materials
The Material - Plum wood
The wood of the plum tree offers intriguing colouring, a vivid grain and is very hard and robust.
To protect the wood against water, the surfaces are sealed with oil. The resulting soft gleam is a deliberate and highly attractive side effect.
Matching Set
Buy together with the matching Vivo Plumwood Black Fibre Shaving Brush
Looks fantastic when placed in the Vivo Chrome Razor And Brush Stand RHM33
We ship worldwide!
Subscription orders:
Free UK delivery for all subscriptions
Shop Orders:
Free UK delivery for all orders over £60.
All orders:
International delivery prices vary by region - calculated at checkout
Orders placed before 12pm GMT Monday to Friday are shipped the same day.
Orders placed over the weekend or on Bank Holidays will be dispatched the next working day.